Bhai Charanjit Singh was raised and taught in various Sikh sangats throughout Punjab. He began learning gatka at the age of 14 from the Gursikhs in his sangat. In his later teens, in the sangat of Baba Darshan Singh Ji (Takki wale), he did seva in Sri Akhand Paaths and Keertans. Bhai Charanjit Singh's gatka skills were unmatched, for he won first place in many international gatka competitions. Almost all the akharas in Asia know of Bhai Charanjit Singh. By the divine Will of the Guru, Bhai Charanjit Singh became the "ustaad" of the Shaheed Baba Deep Singh Ji Gatka Akhara at Gurdwara Gurdarshan Parkash, Damdami Taksal, Mehta, in 2002.
Charanjit Singh went on a tour to preach the Sikh martial arts internationally, beginning in Malton (Ontario),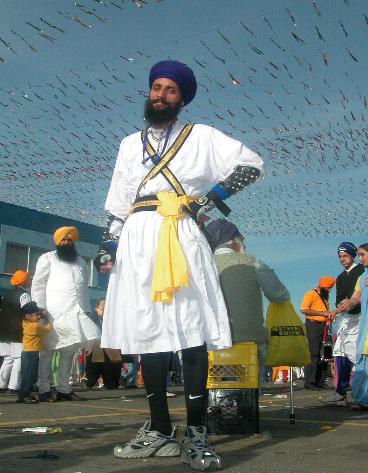 establishing the akhara there in the summer of 2003. Later that year, Bhai Parminder Singh of the Guru Nanak Academy invited Bhai Charanjit Singh to teach in Surrey, where he established a new akhara.  It was here that the UK Singhs met with Bhai Sahib and discussed the idea of setting up an international akhara (India, Canada and UK). Bhai Sahib was fully supportive of the idea and urged the UK sangat to create a branch of Shaheed Baba Deep Singh Ji Gatka Akhara in England.
While in Canada, Bhai Sahib loved the students' funny attempts at properly speaking Punjabi and their childish antics, and he made everybody feel as though they were his immediate family. Bhai Sahib had a unique love and appreciation for youth, of all backgrounds. When in the park or at a picnic with the akhara, he would randomly offer a handshake or encouragement to any young person he saw – regardless of their race or religion. He saw the potential in everyone to live up to the teachings of the Guru, although his best parchar was through his actions. He lived within society, made friends with all, did seva with humility and all the while remained focused on the Guru's charan.
In May 2004, Bhai Sahib along with Bhai Parminder Singh Ji and Bibi Rena Kaur sadly left this mortal world after they were involved in a serious car accident while on the way to continue Sikhi Parchar in Calgary, Canada. The car accident had a huge impact on the sangat that were close to Bhai Sahib. For all of us who were fortunate enough to have crossed paths with Bhai Charanjit Singh, we know that his legacy of seva, and spreading Sikhi around the world, will never be forgotten.